Charity Quiz Night - in aid of Prostate Cancer Awareness
Quiz night at Himalayan Hotspot raised £1,326.00 for Prostate Cancer Awareness
The winning combination of fabulous food and great entertainment provided by our Quiz Master was enjoyed by 10 teams in tables of four. The winners, Team McBeth received a £30 meal voucher and a bottle of wine each, kindly donated by the Himalayan Hotspot. The losers, Team Tesseris were presented with a Toilet Roll!
During the evening, Lion John Mack gave a brief talk on how PSA testing can identify Prostate Cancer in its early stage and save lives. He urged wives to persuade their husbands to have the simple test.
The Reading Lions 2018 PSA Screening event has already been scheduled for 12th May 2018. Further details will be on our web site, FaceBook and Twitter: @LionsReading
In order to continue this vital work and to offer free PSA tests each year, Reading Lions organise many fundraising events. However, each screening event costs up to £20,000 so any donations are very gratefully received.
Donate here...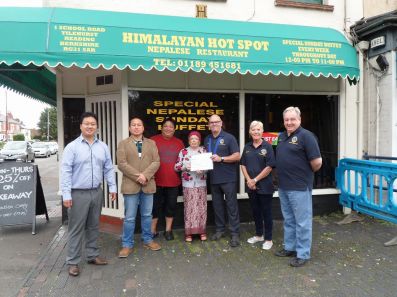 President of Reading Lions, Martin Gallagher said, "The Gurung family have been so kind and generous. They donated £555 from beer and wine sales in addition to subsidising meals. We will be organising more quizzes and functions at the Himalayan Hotspot as they are great advocates of our Prostate Cancer Awareness Campaign and are helping us to generate more awareness in Reading. A cheque for £100 was also donated by a quizzer who is undergoing treatment for Prostate Cancer."
Pictured: President Martin Gallagher, Carole Irving and John Samuels and the Gurung family.
Reading Lions hold a record for a single PSA test event and have now tested 4,500 local men over the last 5 years with 156 having found to need Prostate Cancer Treatment.