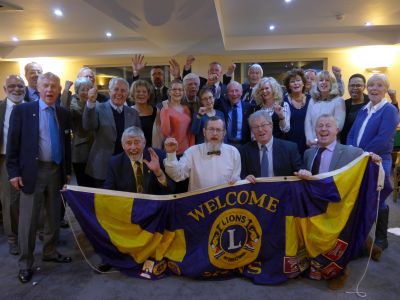 READING LIONS CLUB is a local group of volunteers who aim to promote the health and wellbeing of the Reading community by improving the local environment, helping individuals in times of need, supporting Reading based community groups and local charities. Every penny raised goes into our community projects. Our aim is to serve the people of Reading and make a difference. We are always seeking new and fun ways of raising money.
Lions Clubs are also members of an international network of men and women who work together to answer the needs that challenge communities across the world.
Our motto is "We Serve". There are more than 1.4 million members in over 205 countries, all serving their local communities and worldwide projects. In the UK we have 900 clubs with around 18,000 members. Each club is autonomous but works within international guidelines. Our area covers the Reading Borough that incorporates Central Reading, Tilehurst and Caversham. Other clubs nearby include Woodley & Earley, Bracknell Forest and Wokingham to name but a few.
WHAT DOES OUR CLUB DO?
The Lions believe that individuals working together can initiate and carry out projects that will make their community a better place. Our principal aim is to assist the young, the elderly and disadvantaged, by way of local community projects and global initiatives.
See our Community Service and Fundraising pages for more detail.
Most of our funds collected are spent locally, but we also support International projects. Lions are often the first to make local grants in emergency situations such as the Indian Ocean tsunami and the Australian bush fires and more recently various flood disasters. These projects are managed by Lions Clubs International Foundation (LCIF) to ensure wise and safe use of donations. For more information about our global activities visit our international website here:

We cover all costs from our own dues, ensuring that all donated funds go to the causes. Transparency and accountability operate at every level; in fact, the Financial Times has ranked Lions Clubs International Foundation the "best among non-government organisations worldwide with which to work".
We are proud that our organisation is close to a century old, and that it has a distinguished history of doing good works for the world. Local communities respect and trust their clubs, both because those clubs are made up of neighbours and friends who have a long record of support, and because of the Lions Clubs International name and legacy.
When you join Lions, you join a global service network. So at the same time you're helping your own community locally, you can also contribute to Lions community efforts in other countries.
Lions are men and women who volunteer their time for humanitarian causes. Founded in 1917 by Melvin Jones, our motto is "We Serve."
Our own Club Mission Statement 'Who Cares Wins'
The members of the Lions Club of Reading are a group of men and women who offer our time and effort in helping those less fortunate. We meet two evenings a month to organise our community and fund raising events. Giving makes us all feel better for living. We have fun too and our reward is the satisfaction in what we do for others. If this sounds like something for you then why not come along to one of our meetings or join us at a fund raising event.
For more information call 0345 8337 431
Important Club contacts:
Club President:president@readinglions.org.uk
Club Secretary:secretary@readinglions.org.uk
Community Service Chairman:communityservices@readinglions.org.uk
Fundraising Chairman: fundraising@readinglions.org.uk
Marketing & Publicity: marketingandpublicity@readinglions.org.uk