COLLECTING FOOD FOR THOSE IN NEED

FOOD COLLECTION DROP OFF POINTS SHOWN BELOW.
ITEMS ARE DISTRIBUTED TO READING PEOPLE THROUGH FOOD BANKS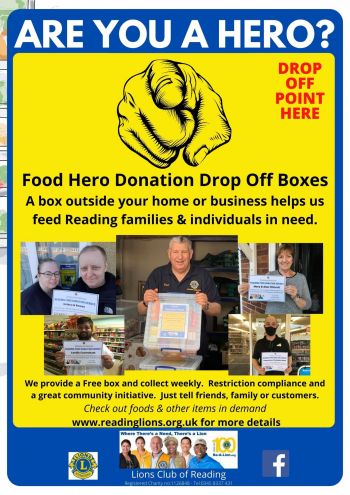 LATEST NEWS: For the next four weeks (effective 7th March 2022) the food donations collected will go to the Reading Ukrainian Centre and then every other week, until further notice.

COULD YOU BE A HERO?.
Email here if your business/property can be used as a drop off point
Contact us
Reading Lions have Food Donation Boxes at multiple homes and businesses across Reading. We collect food and toiletry item donations weekly, helping ensure that local food banks can distribute to people in Reading in need.
If you have an active neighbourhood group, are in a busy residential location or a business where customers may wish to donate, please contact us. We have a limited number of spare boxes available.
Thank you to those Food Donation Heroes who have helped collect over £70,000 worth of food during the pandemic and beyond. The demand unfortunately continues.
Reading Lions provide a Free box which you place outside. We visit and empty weekly, with no contact required. Our Heroes input is minimal. It creates a local community initiative which engages with family, friends and neighbours alike.
Whether a regular donation of a can of food, Christmas stock or a commercial clear-out, we also make one off collections direct from individual donors.
Food you donate will be forwarded to vulnerable individuals, groups and families in Reading and appreciated more than you ever know. Making you a Hero in another's eyes.
The following items are in great demand: Tins of fruit, tuna, cooked meat, Pasta & sauces, Long life milk, Coffee, Squash, Jam, Peanut butter, Instant porridge, Cup a soup, Noodles, Instant custard, Toiletries - NOW Prescription Glasses too.
PLEASE DO NOT DONATE if you or if any member of your household or someone within immediate contact display symptoms of or are suffering with diagnosed Covid-19.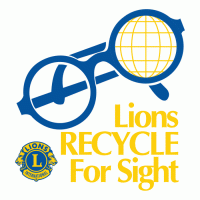 Prescription Glasses (no cases) also collected here. Millions of people Worldwide have seen sight restored since 1967
DESIGNATED DROP OFF POINTS

Please adhere to distancing rules when parking and dropping off.
Tilehurst:
7 Greenfinch Close, RG31 4SY
43 Fairway Avenue, RG30 4QA
108 Usk Road, RG30 4HU
8 Armour Hill, RG31 6JS
84 Thirlmere Avenue, RG30 6XL
34, Hayward Way, RG30 4QP
The Cooperative Shop, The Colonade, Overdown Road (inside the shop on the left)
Victoria Pub, 1 Norcot Road, Reading, RG306BP (outside the front entrance)
The Ironing Lady, 848, Oxford Road Reading, R30 1EL.
Meadway News 151 The Meadway RG30 4AP
50 Park Lane RG31 5DT

14 Highbury Drive RG31 5JL
Fledglings Day Nursery, Little Heath School
Fledglings Day Nursery, 51 Armour Hill RG31 6JP
98 Cotswold Way RG31 6SR
61 Westwood Glen, RG31 5NW
Village Surgery, Westwood Road RG31 5PP
120 Overdown Road, RG316NJ
29 Fullbrook Crescent RG31 6RX
19 Farm Drive RG31 4EU
Nationwide Building Society, 100 School Road RG31 5AU
Purley:
Barn Owl Day Nursery, 1110 Oxford Road
Caversham:
48 Rotherfield Way, Emmer Gree. RG4 8PL
110 Elizabeth Court Gosbrook Raod, Caversham RG4 8BJ (Box inside main entrance)
23 Southview Avenue, Caversham RG4 5AB
AW Cycles, 110 Henley Road, Caversham, RG4 6DH between 10.00am and 4.00pm.
(please note: The shop is operating a closed door policy - Please ring the bell and a member of staff will collect).
Woodcote Village Wine & Beer, 4 Cavendish Road, Caversham, RG4 8XUe Way Post Office & News,
Cooperative Shop, 100 Southview Avenue, Caversham, RG4 5BB
Londis Shop 320 Hemdean Road, Caversham RG4 7QS
Woodcote Way Post Office & News 30, Woodcote Way, Caversham, RG4 7JH
The Weller Centre, 110 Amersham Rd, Caversham RG4 5NA
Calcot:
J's Food and Wine, 102, Royal Avenue, Calcot RG31 4UT
Coley:
2 Trelleck Rd RG1 6EN
Whitchurch Hill:
2 New Buildings, Whitchurch Hill RG8 7PW (An open community site is being sought)
Southcote:
43 Kenilworth Avenue RG30 3DL
University Area:
Chancellor House Surgery 6 Shinfield Road RG2 7BW
Woodley & Earley: (**on behalf of Woodley & Earley Lions Club)
4 Woodway, Woodley. **
Day Lewis Pharmacy in Hurricane Way. **

Parkers Estate Agents Wokingham Road - at the junction. **
Parkers Estate Agents Crockhamwell Road. **
Mas News Brecon Road, Woodley. **
Twyford:
The Floor Store, Twyford. **
Additional sites use private group collection boxes
Please DO NOT DONATE If you or if any member of your household or someone within immediate contact with you are displaying symptoms of or are suffering with diagnosed Covid-19.
Questions – Email us at: secretary@readinglions.org.uk
WANT TO GET INVOLVED?
Email here to assist with collections/deliveries locally Contact us
Email here if your business/property can be used as a drop off point Contact us
To donate on-line and support Reading Lions Club efforts click here

WHO ARE WE SUPPORTING?
We will be donating our May food collection to 'New Beginnings' - a Reading charity dedicated to the relief of poverty, financial hardship and homelessness.
During the pandemic they have increased the opening of their Community Fridge to every weekday providing food and living essentials to an average of 50 individuals and 23 families every day. Once a week they also provide a hot meal, cake and fruit to takeaway to those in need.

We are also donating our food collections to the local foodbank managed by Whitley Community Development Association in Whitley. They need all the help we can give as demand is increasing.
"Thank you Lions for your support. Your donation today to Whitley Community development association is really appreciated."
We are all living in unprecedented times but Reading Lions Club is here to help when it can. Contact us if you know of someone in need of assistance or of a local cause that needs support.
Our wider community has been fantastic in offering support but as we return to life outside of lock down, many volunteers will need to return to work. Unfortunately for many, the need for support continues. All food donated will be delivered by Reading Lions to charities, groups and individuals in need in Reading.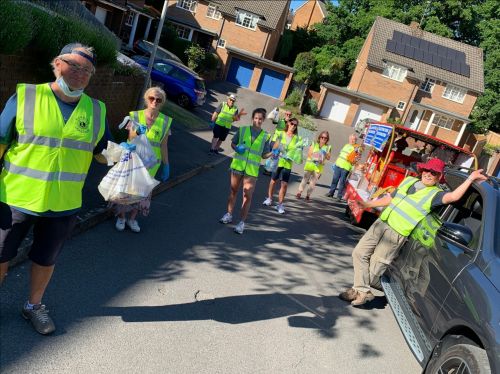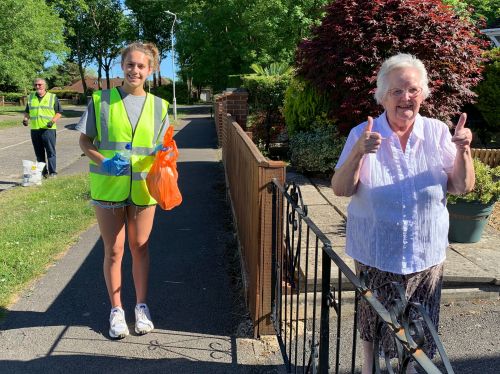 We cannot thank those participating individually, to ensure that others are not going hungry today. You are all Heroes.
A big thank you to Lillian, her neighbours and everyone collecting for us on a regular basis - your contributions are amazing!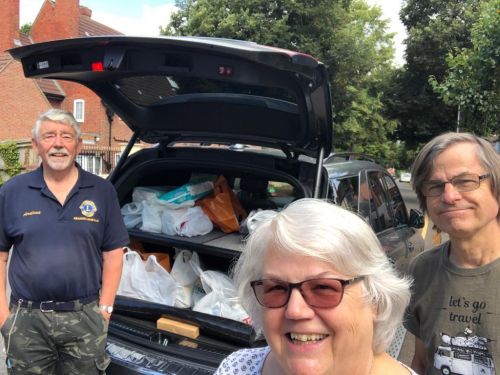 The Lions Club of Reading is a registered charity (No. 1126848) - Members volunteer their time supporting many in need in Reading.

WE ARE HELPING DURING THE CRISIS IN OTHER WAYS TOO:

provided a new TV for a young person with mental health challenges living in isolation
provided bags of food and bamboo mugs for the 'New Beginnings' charity to feed the needy and homeless
supported the local volunteer 'blood bike' riders to enable theme to continue their valuable work
supported the local 'love of scrubs' team so they could purchase materials to make scrubs and scrub bags
donated supplies of mops, buckets and cleaning liquids to a local Women's refuge for use in their homes.
provided a donation to the ICU nurses at the Royal Berkshire Hospital so they can easily access healthy food whilst 'on the go'.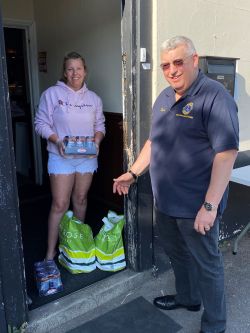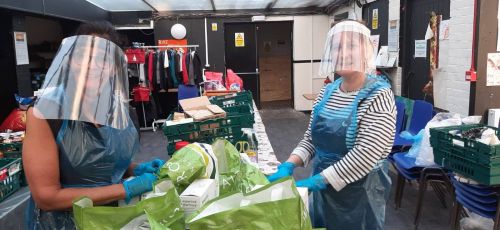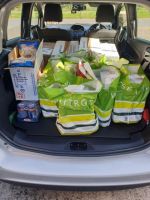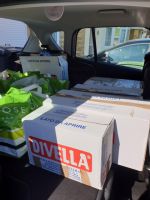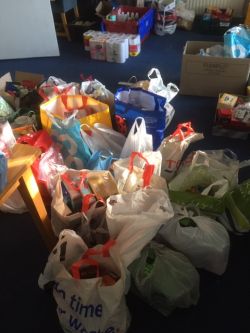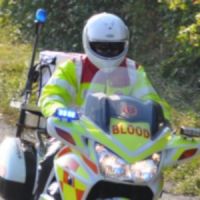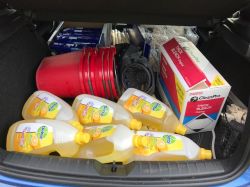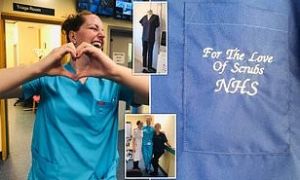 See our Facebook page for more great photos
We continue to look at new ways to help those in need. Contact us if you know of someone in need of assistance or of a local cause that needs support. The Lions Club of Reading is a registered charity (No. 1126848) - All club members are volunteers offering their time freely to support those in need in Reading.

The One Reading Community response hub action line is now live - call if you need help or can volunteer
Reading Voluntary Action

The phone line is open 9am to 5pm, Monday to Friday, and 9am to 1pm on Saturdays and Sundays. Residents, volunteers, businesses and organisations can also get in contact with the One Reading Community Hub online at https://www.reading.gov.uk/coronavirussupport