The Reading Dingley Family and Specialist Early Years Centre
We recently supported the Reading Dingley Family School with the purchase of a new storage shed and subsequently provided funds for childrens games and educational resources.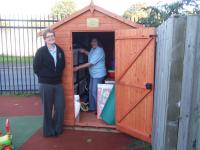 On the 19th January 2011 HRH Countess of Wessex visited the Reading Centre to meet parents staff and supporters and to hear more about the valued work of the Dingley family and to open a new garden at the centre. Our Club President and others were fortunate to be among those attending.
Reading Lions Charity no: 1126848