The Reading Powerchair Football Club Project:
Imagine being in a wheelchair and being able to play football - a dream that could and in fact has come true for a number of young people! The Reading Powerchair Football Club is delighted to have partnered with the Reading Football Club Community Trust, Reading Borough Council and the Lions Club of Reading to give disabled people in the Reading area the chance to play this fast, competitive and fun game. There are a number of Powerchair Football Clubs in the UK but the nearest to Reading is in Swindon and Watford. This means parents and carers having to take the players for training each week to Swindon or Watford, with the cost of fuel and equally as important the time factor.
Reading Powerchair Football Club, with the help of its partners, held a 'launch day' at the Sports Park, University of Reading, Shinfield Road, Reading, RG6 6UR on Sunday 10th July 2011.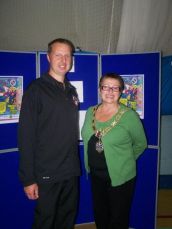 People were able to see powerchair football in action, with a number of teams participating in a tournament. The teams demonstrated the special adaptions required for the wheelchairs, which each cost in the region of £500, and are bolted on to chairs to enable participation in the game. Together the community partners are supporting the Reading Powerchair Football Club's ambition to achieve the following:
• Raise awareness of the club and extend the opportunity to other disabled people in Reading
• Provide the opportunity for sport and importantly, mix play and team sport
• Provide adequate equipment for all participants
• Become a community-based, self-sufficient club for all players
• Develop individuals into a team with the aim of entering the National League.
Charity Black Tie Dinner - 10th March 2012 - more detail
Lions Club of Reading Charity no: 1126848