Thanks to all those who took part in the TKAP campaign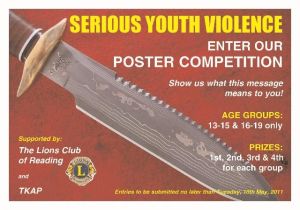 The Tackling Knives Action Programme (TKAP) aims to reduce the carrying of knives and serious stabbings among teenagers. The Lions Club of Reading is working with TKAP and schools to raise awareness of the TKAP Programme through the Serious Youth Violence Poster Competition. Following the success of last year's "Knives End Lives" poster competition, Reading Lions launched this year's competition in May 2011. The competition was open to young people aged between 13 and 19.
1st, 2nd, 3rd and 4th prizes were awarded to each age group of 13-15 years and 16-19 years.
Prizes included IPods, Sports and ITunes vouchers. All winners were notified individually.




Registered Charity no: 1126848