Youth Opportunities
Lions Clubs have a number of Youth related projects that reward and recognise achievement. Our goal is to 'provide the young people of the world with opportunities for achievement, learning, contribution and service, individually and collectively, through sponsorship of activities identified as best practices in the field of youth development'.


The Reading Powerchair Football Club Project: more......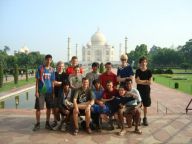 We helped support a local young person fund a trip of a lifetime to India. He learned about the differences between our two cultures and helped refurbish a school in the hills. We recieved a great letter of thanks, with pictures of his adventure.

Tackling Knives Action Programme (TKAP)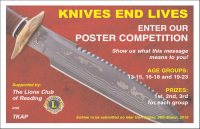 The Tackling Knives Action Programme (TKAP) was a Home Office-led intensive, time limited initiative which aimed to reduce the carrying of knives, related homicides and serious stabbings among teenagers (aged 13-19). It was launched on 5 June 2008 in response to a number of high profile knife-related murders and serious stabbing among young people.
In 2010 the Lions Club of Reading supported a poster competition, open to young people aged between 13 and 23. The competition was well supported with some great poster entries.
The winners presented with their prizes at a local prize giving event. 2011 Competition: more detail here.


The annual Peace Poster Competition: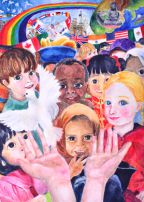 This is an annual painting competition that is organised in co-operation with the United Nations. It is designed for children from 11 to 13 years of age and, as the name suggests, the theme is Peace.There are various competitions at local, national and international level with the ultimate UK winner being invited to an event at the United Nations in New York.
Young Ambassador Awards: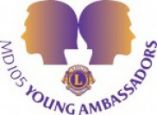 The primary aim of this Annual Competition is to recognise and reward the effort that many young people put into our local community. Despite the prominence given by the media to the troublemakers in society, the vast majority of our young people are good, honest, hardworking young citizens who give up a lot of their free time to help others less fortunate than themselves, or perhaps spend time in furthering the aims of various Youth Organisations, e.g. Scouts, Guides, Cadets, St.John Ambulance, etc. The scheme is open to Young People aged 15 to 18 years and competitions are arranged at local, National and European levels which, in addition to the recognition of their efforts, provides the opportunity to win Bursaries to further their chosen project.
Young Leaders in Service Award:

The Lions Young Leaders in Service Awards recognize young people (suggested ages 12-18) for their community service within a 12-month period:
50 hours of service = Silver Seal Award
100 hours of service = Gold Seal Award
The benefits for young people taking part are that they will experience the rewards of community service, achieve significant levels of community involvement and receive recognition and awards for the effort.
The Community will also benefit from engagement with young people. The Lions Young Leaders in Service Awards program is part of the Lions Opportunities for Youth initiative.


A LEO CLUB: For 12 to 18 years of age and 14 to 28 years.

A Leo Club can be formed and operated under the guidance of a sponsoring Lion club. The Leo clubs in the British Isles and Ireland can now be split into School Based Clubs (12-18yrs of age) and Community Clubs (14-28yrs). Whilst we all share the same name and strive to a common goal, helping others, we also have very distinct differences.
Leos are a group of dedicated, enthusiastic and energetic young people allowing it's members to help others and raise money by giving up a little of their time. The overall scope of Leos allows members to experience and enjoy meeting others and gaining new friends whilst sharing a common interests and goal. Leos encourages young people to gain confidence and experience by having responsible fun with a purpose.