Santa and his Sleigh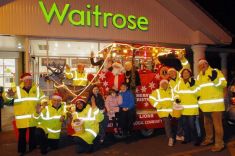 Throughout the evenings of December, the Lions Club of Reading take its Christmas Sleigh, complete with Santa and willing elves (helpers), throughout the streets of Reading, Tilehurst and Caversham collecting money for its Christmas appeal.
We are very grateful to Waitrose Store Oxford Road who, for the last seven years have kindly helped launch our Christmas appeal at their store and to collect on site. Thanks also go to Tesco in Oxford Road who allow us to collect on site. This enabled us to provide food vouchers to members of our local community and with your help we are able to do even more to support those in need in the Reading area. Many thanks for your generosity. Together we raised more than £40,000 from our Christmas appeals.


Where will Santa be in December 2019?
We are out from 6.00pm to 8.00pm each day unless stated otherwise.
Please bear with us if rounds have to be cancelled due to bad weather conditions.
| | |
| --- | --- |
| 2nd December | Stanhope Road, Barnsdale Road, Benson Close, Northcourt Avenue. (Windermere Road as extra if time) |
| 3rd December | St Saviours road, Boston Avenue, Saviours Road, Trelleck Road. |
| 4th December | Kenilworth Avenue, Winser Drive, Southcote Farm Lane, Southcote lane (in part).(Fawley Road as an extra if time) |
| 5th December | Elvaston Way, Hardwick Road, Warnford Road,Combe Road, Riley Road, Mayfair (in part). |
| 6th December | Pottery Road, Wealden Way, Hirstwood. |
| 9th December | Westwood, Beverley Road, Crescent Road, Lyme Grove, Victoria Road, Armour Road. (Corwen Road as an extra if time) |
| 10th December | Halls road, Manor Park Close, Burlington Road, Lansdowne Road, Grafton Road. (Fairway Ave as an extra if time) |
| 11th December | Oak Tree Road, Mapledurham View, Parkhill Drive, Oakham Close, Elstree Close. |
| 12th December | All Hallows Road, Copse Avenue, Woods Road. |
| 13th December | Woodcote Way, Shepherds Lane (in part), Sandcroft Road, Hilltop Road, Geoffreyson Road. |
| 14th December | Waitrose, Oxford Road, Reading. 9.00am to 4.00pm |
| 15th December | Tesco, Oxford Road, Reading. 9.00am to 4.00pm |
| 16th December | Highmoor Road, Matlock Road, Buxton Avenue, Albert Road, Copperfields, Kidmore Road (in part), Oakley Road (in part). |
| 17th December | Marshlands Square, Buckingham Drive (in part), Evesham Road, Knights Way, Surley Row, Highdown Hill (in part), Eric Avenue. |
| 18th December | Henley Road (in part), Mayfield Drive, Chiltern Road, Valentine Close. |
| 19th December | Shinfield Rise. |
| 20th December | Santa is resting - the sleigh will not be out tonight. |
Track Santa on his rounds:
Thanks to YOU every penny will make a difference!