Robbie the Robot Appeal:
Prostate cancer is the number 1 male cancer and 1 in 12 men in the UK will be diagnosed with it during their lifetime. Symptoms that suggest a prostate problem include:
• getting up at night to pass urine
• a reduced urine flow
• urgency to pass urine
• a feeling of incomplete emptying
Often these symptoms are related to prostate problems other than cancer. But prostate cancer can have no symptoms. Therefore if older men have some or all of these symptoms, it is recommended that they should see their doctor.
Who is 'Robbie the Robot'?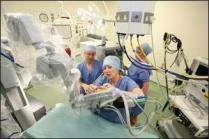 The latest in state of the art robotic assisted surgery, has transformed prostate cancer operations at the Royal Berkshire Hospital. The robot allows surgeons to perform radical prostate operations using all the clinical and technical capabilities of traditional open surgery, whilst enabling them to operate through the tiny incisions which characterise 'keyhole' surgery.
For patients this brings a host of benefits, all of which contribute to radically shortened recovery times and a quicker return to normal life. The Royal Berkshire Hospital acquired the da Vinci robot thanks to a very generous donation.
In order to keep the da Vinci robot operating in Reading, they need to raise a further £1million. The Lions Club of Reading assisted with a collection at the Madejski Stadium. We raised more than £580.00 in one afternoon which is a great achievement. Many thanks to all those who contributed.
Registered Charity no: 1126848