'Tutti Fruitti' the human fruit machine:
Tutti Fruitti has been produced for the benefit of helping community groups fundraise.
There are a few simply rules which you are agreeing to when making a booking:
The person or organization named in the booking are responsible for providing public liability insurance for it's use and any or all consequences. Reading Lions CIO acce pt no responsibility for any loss or damage or injury to third parties caused whilst Tutti Fruitti is in your custody /your use.
You may be asked to collect and return this at a convenient time from our storage facility in RG30. The largest panels are 1.2m x 2.4m, so you will need a van or roof rack.
Allow up to 30 minutes to assemble for 2 people, starting with A, then B... you get the idea, we have labeled all joining parts for you (15 minutes with practice).
Please notify us on return of any damage or missing items. We may ask you to cover replacement part costs.
Be careful of panel edges as they are soft.
This is a lightweight structure. No climbing on or weight on any part please.
You will need to provide your own prizes. We use www.noveltyimports.co.uk. Allow up to a week for delivery.
We can use or donate any unwanted prizes that you have left over.
Sounds not included - There are numerous phone apps that you can obtain that will give you the sound of a fruit machine to add to the experience.
Please email us with details of the amount you raised afterwards so we can keep a record on how much 'Tutti' raises for the community
There is no charge for the use of 'Tutti Fruitti' but if you wish to help with it's upkeep or our community efforts with a DONATION HERE, that would be much appreciated.
Units size: 2.4m wide - 1.2m deep - 2.4m high
You will need a set of steps and a screwdriver
Spare screws
3 people to operate and we suggest shifts of up to an hour at a time
String (if you wish to hang up prizes)
Change, £1 coins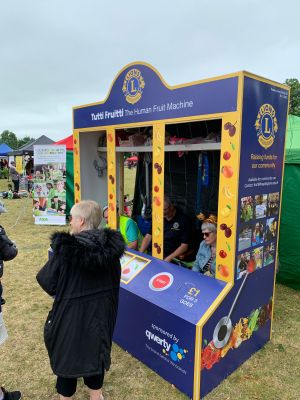 WANT BOOK TUTTI FRUITTI?
Please download the booking form here - complete and return via email to