GOOD TO GIVE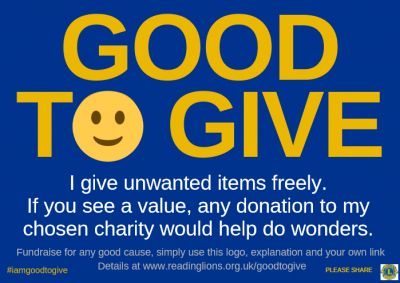 Many of us use Facebook Marketplace, Gumtree and numerous sites to sell or even give unwanted items for free. When gifting for free, recipients always see a value to these items.
GOOD TO GIVE asks if you would make any donation to my chosen charity if I give you an item for free. Whilst a Lions initiative, this is for everyone's benefit. You can choose any charity to benefit from a donation. Cancer Research, The British Legion, regional and small local charities, the link and choice is yours to make.
HOW IT WORKS

1. Copy and add our logo

to the photos of the product you are listing
2. Add an explanation for GOOD TO GIVE to your listing (we suggest this:)
GOOD TO GIVE - Please accept this item for FREE. If you please any value to it, my chosen charity would make good use of any donation that you may wish to make. Please share, it's GOOD TO GIVE and also state when making your donation.
3. Add the link for where to donate.
GOOD TO GIVE FOR UKRAINE
The full amount of your donation here will be used to support the people of The Ukraine. This will be passed to Polish and Romanian Lions Clubs or Ukrainian communities here in the UK. Please state 'UKRAINE' next to your name.
Thank you for your support, which is invaluable at this time of crisis.
You can also use our QR code to donate.

Good luck with your fundraising.