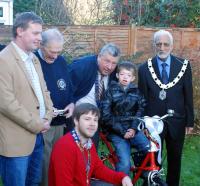 Thanks to you all Ben gets his new trike!
Ben is a very special 10 year old who was hoping that Santa would bring him a new trike. Ben has a chromosome disorder that means he has a mental age of three, has difficulty walking, is deaf and cannot speak, However, just like many other 10 year old boys, he loves his bike. Ben cannot use a normal bike and requires a custom built trike that has to be specially adapted to meet his needs. His Mum says playing on his trike is one Ben's greatest joys, it gives hime a wonderful sense of freedom and he just loves being outside.
Unfortunately Ben had outgrown his existing trike and his parents were trying to find the funds to buy a replacement which is expensive. This was a real challenge, with all the other associated costs of caring for Ben and two healthy teenage children in the home to support. Unfortunately the family budget would not stretch to meet the cost.
It is never easy to ask for assistance but Ben's parents wrote to 30 local organisations seeking help. Two local Lions Clubs (The Lions Club of Reading and the Lions Club of Pangbourne,Theale and District) and the Caversham Round Table responded and pledged support totalling £1,100.
The Lions Club of Reading was passionate about helping Ben and wanted to encourage others to support the cause and find the balance needed for Ben's new bike. A custom built trike costs £1,950. We issued a plea for help in the local press and you may have read Ben's story, as highlighted in 'getreading'. We also issued an appeal via our website and facebook pages.
We are delighted to report that with your generous donations we collected all the money needed. Ben's new custom built trike was delivered to him last Sunday (pictures to follow) and he is now able to get outside and have fun with his friends.

THANK YOU ALL VERY MUCH FOR MAKING THIS POSSIBLE.

Read the article in 'getreading' here
Reading Lions Club Charity no: 1126848