Sunday 20th August 2017
The Dragons are coming to Reading on August 20th - Race the dragon or simply turn up for the excitement and fun!
Returning by popular demand. This is a great opportunity to raise funds for your own charity of choice and local good causes and have great fun at the same time.
The festival is already four times the size of last year. It's becoming a premiere event in Reading. Dragon boat racing attracts huge crowds across the world and is more popular than football in areas of Asia. Anyone can participate, regardless of experience. Teams of up to 17 (over 16 years) can just turn up on the day and will be welcomed with a 12 metre boat and all safety equipment. Training is supplied on the day.
Listen to Lion Andy Young promoting the event at a recent First Friday Club event:
BBC Radio Berkshire is presenting the festival (Ady Williams as MC and in a boat!). The BBC boat will be filled with local personalities and presenters and offer Reading a challenge to beat them.
Reading Borough Council are supporting the event with teams from Tesco, Cancer Research, Haslams, Launchpad, Abbey Windows, Jacobs UK and many more (most with no experience) but all vying for the kudos of lifting the trophy.
A great event for companies, charities and clubs
The festival presents a unique opportunity for the Reading community, companies and charities to come together for an exciting free entry event. Companies can book a boat for team building and staff motivation while charities and Clubs can use the event to raise funds. At recent Dragon Boat events, charities have raised over £1000 per boat entered and there is no organisation required on their part. Participants can raise funds for their place in the boat. We have companies that are supporting a charity by funding the entrance fee and allowing their chosen charity (or one we recommend) to retain every penny they raise.
30 Team Entries to date from Charities to Companies - plus some mystery paddlers!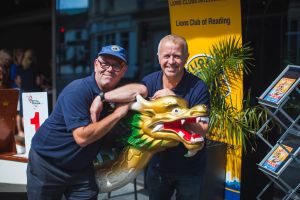 Lion Andy Young pictured with Reading Lions Club President Martin Gallagher (on left of picture) contemplating the Reading Lions Club team tactics.
Some companies have yet to decide on their charities but those who have are detailed on the list below:
https://www.readingdragonboatfestival.co.uk/team-entries2017
Andy Young, event organiser explains
"The Reading Dragon Boat Festival is an ideal opportunity to use our own stretch of the River Thames for a fun family event for the greater good of the Reading Community. The festival offers a unique fundraising platform, an opportunity to meet supporters and a free display area to highlight charity objectives. A number of companies are supporting a charity by funding the boat entry fee. Every penny raised goes to chosen charities. Our fundraising target for the event is £20,000."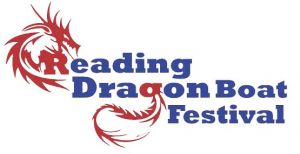 Deborah Thomas, Fundraiser & Dragon - Age UK Reading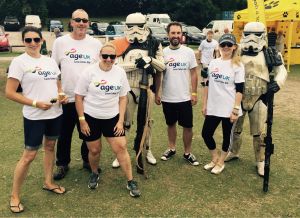 Age UK Reading were invited to race the dragon last year. Having never done it before, it was with trepidation that we accepted. If nothing else, it would be a fun family day out by the river with an opportunity to raise funds. But it was so much more than that! On the day, we headed down to the river full of excitement albeit a little worried we'd end up in the river as opposed to the boat.
…Everything was incredibly well organised and set up for our arrival. There was a brass band, activities for the children, stalls selling food and drinks and even a few Star Wars Storm Troopers on parade. We signed in and met some of the other teams and the friendly banter started! Unfortunately, a few members of our team were unable to attend so an announcement was made that the Age UK Reading team needed additional crew members. The response was amazing! People who had turned up to watch volunteered as well as members from other Dragon teams. The sense of community was fantastic. We raced our hearts out, laughed, joked and managed to remain in the boat. It was a great day doing something immensely fun, bringing people together and raising money for Age UK Reading."
Sophie Stokes, Fundraising and events Organiser - Launchpad Reading: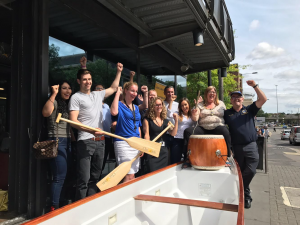 "Launchpad are delighted to be participating in the Dragon Boat Festival for the first time this summer. Our enthusiastic team of staff & volunteers will be taking to the river in a bid to raise funds and increase awareness of Launchpad's work to prevent homelessness in the town. We look forward to what will be a really enjoyable day for all involved, in support of the Reading community!"
Claire Rhodes - Fundraiser at the local children's bereavement support charity Daisy's Dream: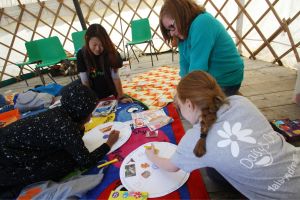 "Daisy's Dream is thrilled to be supported by Oracle Storage to have a boat at the Festival. as a local charity we need to raise over £40,000 this year to provide professional therapeutic support to local children dealing with bereavement - and this is a fun and exciting way to donate. It's also a great way to raise awareness of our service in the community. Our crew is coming from a wide range of supporters - and the Daisy's Dream Dragon's can't wait!"
More about the Day:
Entry is free to all spectators who can enjoy the racing, bars, food and attractions. It will be a great day out for all the family.
Staged by Reading Lions with the support of BBC Berkshire and Reading Borough Council, we aim to raise £20,000 for good causes. The Bradford Festival is the largest in the UK attracting 30,000 people this year.
There is a marquee for each team and an offer of a free stall space for any charities entering (before 1st August). For groups of 3 or more teams, we offer your own tournament so friends and workmates can challenge each other. Imagine the exhilaration of a 200 metre race followed by a relaxed Sunday beside the beautiful Thames here in Reading, shared with friends and family over a picnic or one of the many food choices.
Useful links
www.readingdragonboatfestival.co.uk/ www.bradforddragonboatfestival.co.uk/ https://youtu.be/s-wIJ1OcO4o www.readinglions.org.uk/
Facebook www.facebook.com/ReadingDBF/
Twitter @LionsReading
Event Details:
Organisers www.racethedragon.com/ Entry fee £383.33 +vat (£460) Minimum of 3 races in a knockout style
Start: 9.30am Finish: around 5pm with trophy presentation FREE limited onsite parking The Venue River Thames at Thames Valley Park Riverside RG6 1PQ (at the end of the A329M)
Reading Lions are looking for team members to 'pitch in and paddle'
Could you Race the Dragon?
You will be part of a team of 15 paddling a majestic 12 metre Dragon Boat along a 200 metre course looking to gain kudos and glory for Reading Lions. To participate all you need to do is commit to raising a minimum of £50 for Reading Lions.
For more information, contact Mandy Young - mandy.young@outlook.com
Spaces are limited so register today and join the fun.
Prize awarded for the team member who raises the most for Reading Lions
So far, prizes include 2 show tickets at the Grosvenor Show Bar, Rose Kiln Lane. More prizes will be announced regularly on Facebook and Twitter.
www.grosvenorcasinos.com/local-casinos/reading-rose-kiln-lane
Contact Details
Reading Lions Event Organiser Andy Young Tel: 07970 616283 Email: andy@abbeywindows.co.uk
Latest Press Release: Here...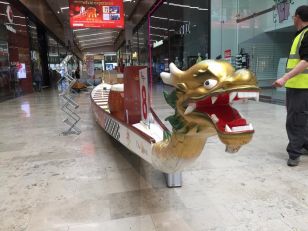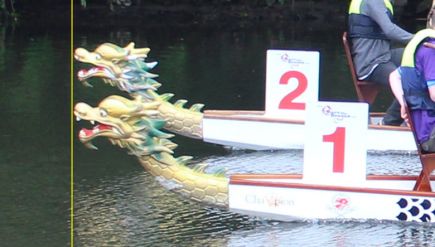 https://theberkshireblog.com/2017/06/26/you-know-youve-always-wanted-to-go-dragon-boat-racing/