Another successful Dragon Boat Festival
The 3rd Reading Dragon Boat Festival on Sunday 19th August was a huge success, attracting a crowd of over 3,000 with some 400 people competing for the coveted 2018 Dragon Trophy. Reading Lions Club organise this event in conjunction with a professional organisation (Race the Dragon Ltd) and it is held on the River Thames at Reading's Wokingham Waterside Centre.
BBC Radio Berkshire's Debbie McGee broadcast her weekly program signally a mass warm up and for the weather to clear for a sunny afternoon and an exciting days racing on the river. The fastest growing team sport worldwide (behind football), with twelve meter dragon headed boats surged along in heats of three boats under the beat of a drummer and up to sixteen paddlers.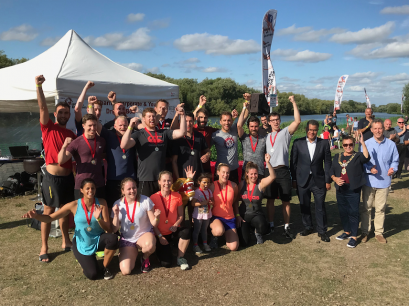 Twenty teams took part raising £12,500 for the fourteen charities they supported. Matt Rodda MP, Alok Sharma MP, the Mayor of Reading and Deputy Mayor of Wokingham supported the event which was compared by BBC's Andy Jones. The racing was won by the 'Known Paddlers' in a close finish with the 'Willmotts Plastics' team.
Berkshire Vision fielded a team of blind and partially sighted paddlers proving that the event is for everyone.
One team from Sue Ryder were however escorted away from their boat after what Darth Vader considered was a less than acceptable effort.
Launchpad's Sophie Stokes added "Launchpad were back after benefiting from this great festival in 2017. This year our amazing teams helped us raise £2,552.51; money which will be used to help continue our vital work preventing homelessness in Reading. The Reading Dragon Boat Festival is a great opportunity for us to raise funds and awareness among the local community, and itís also a fantastic day out for all the family. We will be back next year!"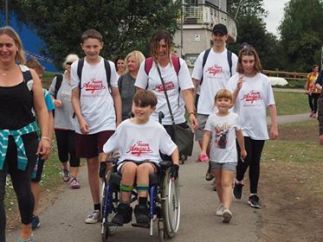 Local seven year old schoolboy Angus Spiers was given an escort by Darth Vader and Star Wars characters from the 501 Garrison as he welcomed by a crowd of hundreds during his epic journey along the Thames to raise funds for a new specialist wheelchair.
All those attending were given the opportunity to take a free a blood pressure and diabetes check. This service was provided by a local chemists' group Manichem and more than 160 people were tested. Sixteen people were recommended to see their doctor in connection with their sugar levels and four in connection with blood pressure. We are very grateful to Manichem for providing this worthwhile community service.