Another successful 'Lions Den' Community Grant scheme!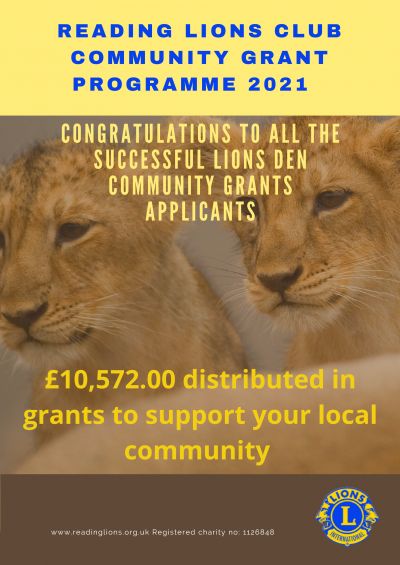 READING LIONS CLUB once again reached out to small local community groups and small local charities to offer financial support. Many local community groups do not have access to grant funding or the manpower / resources to invest in significant fundraising and yet they continue to provide a valued service to our community even during these challenging times.
Through our own fundraising events and with support from our 'Round up for Reading' campaign and our sponsors we set aside £10,750.00 to give away in small community grants, each of up to £750.00 to support local community projects.
Savills Estate Agents once again joined us as sponsors for this event this year in continuance of their community support to the people of Reading.
A big thank you also goes out to Parkers Properties Reading for their support this year.
We received 30 grant applicants, which was amazing, all of which were very carefully considered against our acceptance criteria. Twenty applicants were successful in making the 2nd Interview Stage and recently 'entered' the 'Lions Den' virtually via Zoom to talk with a panel of judges.

We offered guest interview slots to our key sponsors and all successful applicants have now been notified and the grants distributed.
Since our very first 'Lions Den' back in 2017 we have distributed £34,250.00 in grants to 72 local community groups!
Each successful group must be able to demonstrate how the grant benefits the local community and mirrors our own objectives which is to promote the health and wellbeing of the Reading community by improving the local environment, supporting our youth and helping individuals in times of need. Any grant awarded must be used for a specific project and not be used for general day to day running costs.
The following are just some of the different community projects supported by our 2021 Lions Den:

A local Sea Scouts Group with new equipment.
Several local School projects which included support with equipment, books, a new classroom 'reading arch'.
Equipment for a Youth Club and Youth Football Club.
Projects to support mental health and wellbeing including through on-line awareness, gardening and therapeutic horticulture.
A 'walk and talk' service for families with under fives with additional needs and disabilities.
Support for a project for a group 'run by and for' those diagnosed with autism.
Therapeutic drama and dance classes for those in the neurodivergent community.
Assistance to an elderly befriending group.
Support for various local groups who are providing food donations for the homeless, those in isolation and the needy.
The recipients were absolutely thrilled with our support and the following are just some of the reactions we received:
"This is wonderful news, thank you all so much! We are delighted, our guests are already looking forward to a day at the beach! It really is a highlight of the year for so many people."

"Thank you so much for this very exciting news! We are really happy and very grateful to have been awarded £650."

"This is such wonderful news to come home to. It was so lovely speaking to you both, you really put me at ease. I can't wait to share this with the team and the school. Thank you again, we can't tell you how much we appreciate it."

"Wow, I am absolutely delighted and I know our students will be thrilled. We will of course mentioned you on our website, newsletters and share your £500.00 donation to all our stakeholders. Clips and copies will be forwarded to the Lions as they occur. This is another stepping stone in the creation of an all-inclusive work activity/experience that can be access by students with SEND, that provides worthwhile work."
We are delighted to have touched so many local lives with our Lions Den community grant project and were very impressed with all the work being done locally in support of the people of Reading.

Donate here

- (Please add 'Corporate Sponsor Donation' along with your contact details)
Reading Lions Club has remained active during this pandemic and have created social media posts for a number of events which reached and engaged with tens of thousands of people.

If you can help or would like to learn more - contact: andy@readinglions.org.uk