The 'Lions Den' Community Grant scheme is back!


Update - 10th April 2021: The deadline for applications has now passed and we are closed to any new applications. We will be in touch with those that will be going to the Interview Stage 2, very shortly.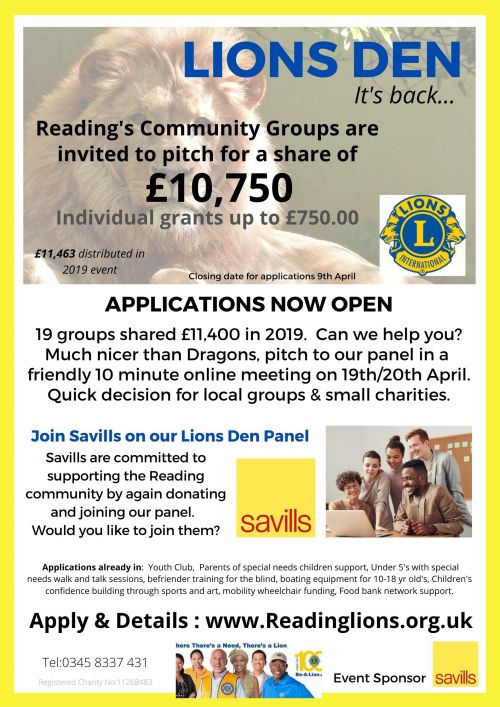 Reading Lions Club is once again reaching out to small local community groups and small local charities to offer financial support. Many local community groups do not have access to grant funding or the manpower / resources to invest in significant fundraising and yet they continue to provide a valued service to our community even during these challenging times.
Through our own fundraising events and with support from the 'Round up for Reading' campaign we have set aside £10,000 to give away in small community grants, each of up to £750.00 to support local community projects. Savills Estate Agents have again joined us as sponsors for this event this year in continuance of their community support to the people of Reading.
We are inviting local groups to submit a grant application for their local project.

To enter: Download your application form.

Stage one: Email your completed application to:secretary@readinglions.org.uk or post to Lion Secretary Jo Hamblin, 18, West Court, West Drive, Sonning, Reading, RG4 6GL, no later than 9th April 2021 which is the closing date.

Stage two: The successful 1st stage applicants will be notified by email. You will then be asked to talk in more detail to a small panel on a 'virtual' Zoom call at a pre-arranged time on the evening of either the 19th or 20th April 2021. Interviews will take place between 6.30pm and 8.30pm. Each group will be allocated a ten-minutes slot - maximum 2 persons to attend the Zoom call to represent each group with extra five minutes for questions.

Stage three: Successful applicants will be notified by email and the grants will be distributed by 30th April 2021.
Each successful group must be able to demonstrate how the grant will benefit the local community and mirror our own objectives which is to promote the health and wellbeing of the Reading community by improving the local environment, supporting our youth and helping individuals in times of need.
Any grant awarded must be used for a specific project and not be used for general day to day running costs.
We are also seeking Sponsors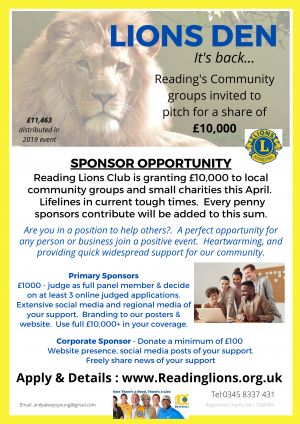 If you are in a position to assist and like the idea of an event which is granting an extra £10,000 above your donation, we would like to hear from you.
Primary Sponsors
£1,000 donation, with the whole sum added to our £10,000
Website presence and links for your business and branding

No admin costs incurred to the event, making grants efficiently distributed
Extensive mentions in social media posts with links for your business
Branding to event posts (used in all publicity)
General regional media coverage of event
Feel free to share news of the whole £10,000 being distributed and your sponsorship
Corporate Sponsor
Min £100 donation
Website presence and links for your business and branding
Social media posts with links for your business
Donate here

- (Please add 'Corporate Sponsor Donation' along with your contact details)
Reading Lions Club has remained active during this pandemic and have created social media posts for a number of events which reached and engaged with tens of thousands of people.

If you can help or would like to learn more - contact: andy@readinglions.org.uk

With your help our 2019 Lions Den supported the following:·
£325.00 will be used to support the 3rd Disability Awareness Day in August 2019.
£740.00 will sponsor archway structures and fruit trees for a new mini orchard feature for a local charity using horticultural therapy for mental health & wellbeing. This will be designed and worked on by clients.
£500.00 will sponsor the supply of 'chemogiftbags' (care packages) to ladies and men undergoing breast cancer.
£750.00 will sponsor branded t-shirts for the front of house volunteers at an independent cinema and registered charity screening world cinema, foreign language and small budget films.
£750.00 will provide a Bursary to support a low -income family / families to attend the local group activities of a charity offering inclusive play and leisure schemes in support of disabled children.
£750.00 will purchase a podium and new music sheets for a local choir raising funds for local charitable causes including our prostate cancer awareness programme.
£500.00 will support a local group working with children with autism to provide a safe place to play and reduce the families feeling of isolation.
£600.00 will help a local based charity continue with its youth scheme aiming to help young people with special needs practice and develop their social, communication and life skills in weekly after-school sessions.
£750.00 will help a small local charity providing support and therapy to cancer sufferers. The grant will be used to create a support podcast specifically for men with cancer.
£750.00 will provide home visits to 20 families by a local children's charity offering life-changing support to children under five years with additional needs and disabilities.
£750.00 will cover the costs of the hire of a coach to take a group of homeless and needy families on a summer trip for the day. The trip is being organised by a local charity that feeds and supports the homeless.
£750.00 will create a library of self-help books for people with autism.
£750.00 will fund a local 'Start Project', which is a 16 weeks course for students who might otherwise leave school with limited qualifications. Using Horticulture as the main trade for skills the grant would support the 2020 programme.
£750.00 will support the 'Reading Games Club' for autistic children. This group has recently lost its local authority funding.
£750.00 will purchase a new gas stove and induction hob with speaking controls to teach blind cooking and improve the meals provided at the local centre supporting blind and partially sighted persons.
£350.00 will cover the cost of a supply of re-useable cups to be given away by a local charity providing meals for the homeless.
£500.00 will help a local community group set up to support a local park in Caversham Heights to buy a defibrillator for the park and local community.
£690.00 to cover the cost of 10 new assessments at a local therapy centre's MS self- help exercise programme.
We are delighted to have touched so many local lives with our Lions Den community grant project and were very impressed with all the work being done locally in support of the people of Reading.