SAVE LOCAL JOBS, SUPPORT BUSINESSES TO
SURVIVE AND THRIVE, PROTECT LOCAL CHARITIES.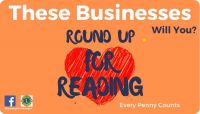 YOU AND LOCAL BUSINESSES
Tag your company and tradespeople Facebook posts @Readinglions
We share these for FREE with a reach of over 200,000 people through
other members, Charity Partners and Community Groups.
Reading - Please BUY LOCAL from fantastic community minded businesses.
THEN...
Donate or fundraise a minimum £10 a month when ready.
Supporting Readings Charities, Community Groups and individuals in need.

Put your business first if times are tough,
£5,673 DONATED TO DATE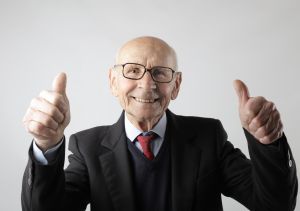 Support Reading's elderly, healthcare, learning, youth and the vulnerable.

You may be a fortunate business which is in a position to donate and help others.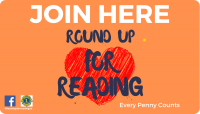 Free to companies and tradespeople.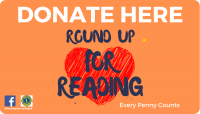 BUY LOCAL at a community minded business
and donate there or
here
to support our Reading.
Guidance and artwork are found
HERE
on your members page.
A perfect opportunity to publicise your business, share news,
display your community support engaging with prospective customers, all for Free.
Even helping you get the most of everyday Facebook posts.
Please Buy Local from people that care...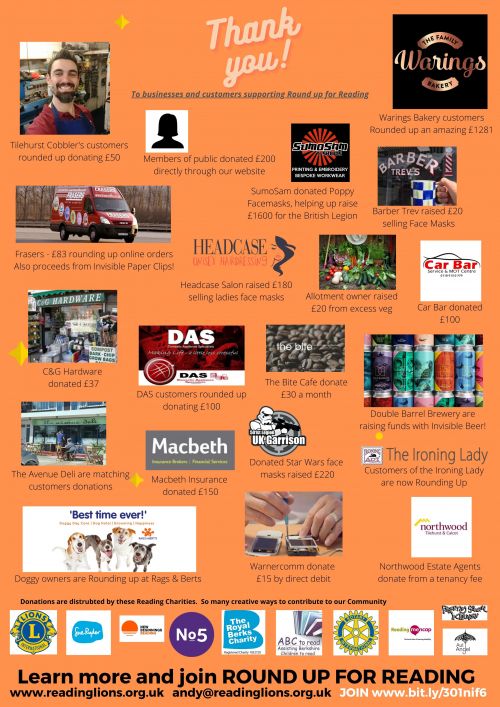 More details - email andyalwaysyoung@gmail.com or call 07970 616283

PLEASE HELP US REACH OUR £10,000 TARGET FOR READING


Check us out on Facebook
Reading Lions Charity manage this appeal, with all fund raises benefiting Reading.
Donations made will be distributed by Reading Lions to community groups and individuals in need through vetted applications.
Businesses joining are able to select one of the above specific charities as their whole beneficiary of donations they make.
Watch the

Round up video here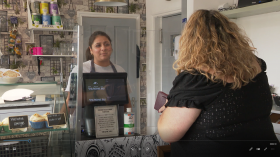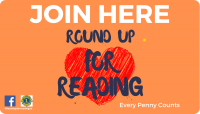 Lions are unpaid volunteers. Every penny donated* supports local groups and individuals in the Reading area, with applications for support often distributed within days. *Donations accepted may include vat which is deducted prior to donating to Reading Lions.

Apply for our support - Contact us if you know of someone in need of assistance or of a local cause that needs support.

Check out here where donations provide support and making a difference and see here how we are responding to the covid crisis.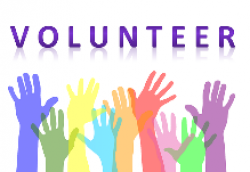 Reading Lions Club has a great social aspect too with many fun events annually. Many members join after first assisting as a 'Friend of Reading Lions'. Our 'Friends' are often too busy with family or work commitments to join but wish to donate time occasionally to make a difference.
Volunteering at our Fireworks spectacular, Santa's Float rounds and other events help us deliver community events as well as fundraising and are invaluable to us as well as our community.
Contact us to enquiry or register as a Friend of Reading Lions.
For more details of Reading Lions membership, 'Friends of Reading Lions' and perhaps a service or goods you could donate to assist our fundraising contact secretary@readinglions.org.uk

Reading Lions Club is a non-religious, non-political group of male and female volunteers who have raised funds to support vulnerable people in Reading since 1965. 'Friends', volunteers with limited to donate always welcome.