Round up (your bill) for Reading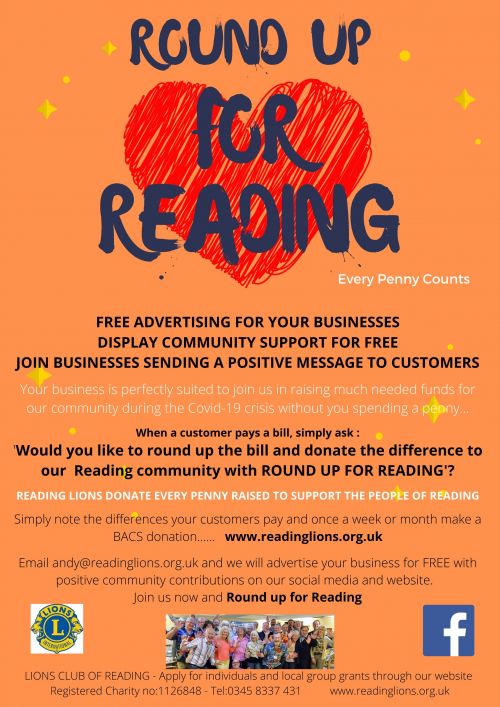 In normal life thousands of local charities, groups and individuals support the people of Reading with individual needs and in providing life enhancing experiences. Whilst many of us are now experiencing our own era of 'individual need' during the Covid-19 crisis, our needs will subside whilst for others, a need of vital help will remain.
How Businesses can help:
While our ability to fundraise has been severely restricted Reading Lions are asking local businesses and trades people to join us and simply ask their customers if they wish to 'ROUND UP FOR READING'.
With the customers permission, just round up any bill and make a weekly or monthly donation to us of the 'round up' differences.
Lions are volunteers, so every penny donated is used on projects supporting local groups and individuals in the Reading area, with applications for support often distributed within days.
No Cost to you as a Business
FREE advertising for your business within our community on website and social media
GREAT opportunity to demonstrate your support to your customers
FREE flyers and artwork for you to use to identify your participation
FREE opportunity for our busiest partners to join our next prestigious Lions Den event
Our 'Round Up For Reading' target is £10,000.00

Could you be one of the 30 businesses raising £5 a day helping us do that in just 12 weeks?
Please share with your business contacts who could join us?
More details and to participate email: kamaljit.kundhi@readinglions.org.uk or call Andy on 07970 616283
Check out here where donations received are already providing support and making a difference and see here how we are responding to the covid crisis.
Apply for our support - Contact us if you know of someone in need of assistance or of a local cause that needs support.
To donate on-line and support Reading Lions Club efforts just click the box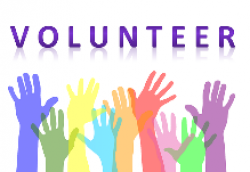 Reading Lions Club has a great social aspect too with many fun events annually. Many members join after first registering and spending time as a 'Friend of Reading Lions'. Our 'Friends' are often too busy with family or work commitments to join but wish to donate their time occasionally to make a difference. Volunteering at our Fireworks spectacular, Santa's Float rounds and other events help us deliver community events as well as fundraising and are invaluable to us as well as our community. Contact us to register as a Friend of Reading Lions.
For more details of Reading Lions membership, 'Friends of Reading Lions' and perhaps a service or goods you could donate to assist our activities contact secretary@readinglions.org.uk

Reading Lions Clubs is a non-religious, non-political group of male and female volunteers who have raised funds to support the vulnerable people of Reading since 1965.