Supporters Thank You Dinner: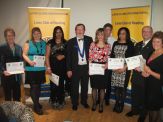 On 11th February we held a thank you dinner at the Prudential Ibis Sports Club for all those who have made significant contributions to our primary fundraising events over the last twelve months. This included our Firework event and the Heroes Gala Dinner both held in November 2012. In addition we gave special thanks to the staff from the Royal Berkshire Hospital and Dr Stephen Allen who were instrumental in making our prostate cancer awareness evening such a success in January 2013.
The staff at the Prudential Ibis Club prepared a delicious meal for us and there were breaks during the proceedings so that certificates of appreciation could be presented. It was a fun evening diligently arranged and executed by Lion Stuart Rowsell and his team.
Lions Club of Reading registered charity number: 1126848