Reading Powerchair Football Club, Charity Dinner - raised £1,300!
The Lions Club of Reading was delighted to support the Reading Powerchair Football Club with its fundraising black tie dinner on Saturday 10th March 2012. The event was held at the Swan at Streatley and there was a raffle and auction. More than 70 people attended and together we raised £1,300 for the Powerchair Football Club. All proceeds from the evening will go towards the purchase of a new specially adapted powerchair.
A very big thank you to everyone who supported the event. You have helped make a difference.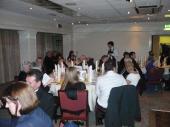 Lions Club of Reading registered charity no: 1126848
Powerchair Football Club registered charity no: 1145173