Prostate Cancer Awareness & PSA Test
18th September 2021
(We are now busy planning our next event - scheduled for Saturday September 18th 2021 - watch this space for more news!)
At our last pro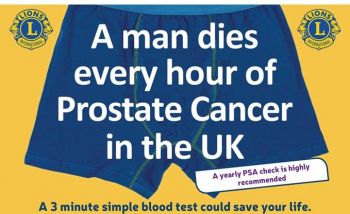 state cancer awareness event nearly 2,000 men attended for a PSA blood test, which is a great achievement. A massive thank you to Rutherford Cancer Center and all the team at the hospital and to all our sponsors and supports. Without your support events like this would not be possible.
If you would like to donate in support of our Prostate Cancer Awareness events simply do so via

Thank You!
What happens at our prostate cancer awareness events?
Our aim is to make the local community aware of the signs and symptoms of prostate cancer and to offer free prostate PSA screening blood tests. We invite all local men between 45 and 80 years or those who are younger and have a family history of prostate cancer to come to our prostate cancer awareness and PSA test events to learn more about prostate cancer and take a PSA blood test.
Useful links:
and NHS Prostate Cancer Be informed before choosing to take a test.

Why test?
With one man every hour dying from prostate cancer and 45,000 new cases every year the Lions Club of Reading aims to provide a FREE PSA blood test to as many men over 45 as possible who chose to take the test. It's well proven that early detection and treatment may vastly increase your chances of survival.
How?
We work with a number of trained phlebotomists, who have all been heavily involved in our previous prostate cancer awareness events. The test is not what many men fear - after taking a simple blood sample on the day, the samples are sent to a specialist laboratory for analysis and the results conveyed direct to every man taking part with their own individual results. Your results letter will be coded red, amber or green and will provide advice on next steps to take, if any.
You are reminded that by definition the test is only an indicative one and we strongly urge you to follow up with your GP if advised to do so. Very occasionally the result could be normal even though your prostate is abnormal and you should seek advice from your GP if you have trouble passing urine or other troubling symptoms.

Who?

All men between the age of 45 and 80 and those men over 40 who have a family history of prostate cancer. We would like you to pass the word to family, friends and work colleagues. Our aim is to reach as many men in the Reading area as we can.
How long does the test take?

Please allow 30 to 45 minutes for registration and test although this may take longer at busy times. You will be required to book a time slot in advance as we are inviting by appointment only.
How Much?

The test is free of charge to all men attending and is funded by Reading Lions Club. The costs of holding an evening of this type is approximately £20,000, largely due to the cost of the laboratory analysis (around £20.00 per test).
Any donation by you on the day or by clicking the 'Virgin money giving ' button below is gratefully accepted and will help fund and expand this vital work.

Alternatively please send a cheque direct / pay direct into our Charity Account as follows: Click here for the Gift Aid form..... Please make your cheque payable to: The Lions Club of Reading and endorse the back with 'prostate event' and send to Lion Jo Hamblin, Secretary Reading Lions Club, c/o 18, West Court, West Drive, Sonning, Reading, RG4 6GL.
'Men Against Cancer'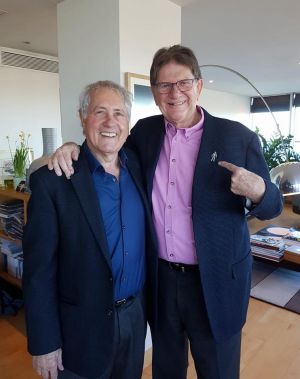 Sir John Madejski and Lion John Mack are supporting prostate cancer awareness.

READING LIONS CLUB:

The Lions Club of Reading is a local group of volunteers who aim to promote the health and wellbeing of the Reading community by improving the local environment, helping individuals in times of need, supporting Reading based community groups and local charities. Every penny raised goes into our community projects. Our aim is to serve the people of Reading and make a difference. Lions Clubs are also members of an international network of men and women with more than 1.4 million members who all work together to answer the needs that challenge communities across the world.
If you would like to nominate a local cause, offer your assistance as a 'Friend of Lions' or find out more about our clubs fundraising and social activities then call 0345 8337 431 or email: secretary@readinglions.org.uk
Company and individual sponsorship opportunities are available and welcomed for this and other events.